The Dominican Crest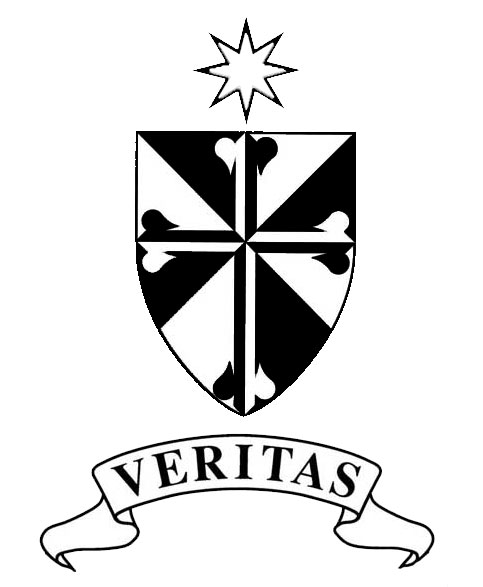 The star, crest and motto offer an ideal summary of the Dominican Way in Education.  The single word Veritas epitomises the aim of our Schools and Colleges – the pursuit of Truth in all its forms.
The star surmounting the crest is rich in symbolism for Dominican students. Christian art has always seen the star as a sign of divine guidance or favour and St Dominic is frequently represented with a star on his forward.  The star lighting the darkness of the heavens at night as the Magi pursued their search for Christ (Matt. 2: 1-12) encapsulates the Christian journey undertaken in faith and hope.
While the design of the heart shaped, mediaeval style crest is a link with the past, it also evokes the timeless message of St Paul "At all times carry faith as a shield" (Eph 6:16) as well as the assurance of the psalmist "His Truth shall be your shield". (Psalm 91:4)
The centrality of the Cross on the crest, together with the symbolism of the white and black, provide a focus and an inspiration for the Christian student. White, traditionally associated with the Risen Christ, penetrates the darkness of ignorance and sin.  In mediaeval times, however, black and white together symbolised humility and purity of life – hence the tradition of black and while for Dominicans.
The cross beams culminate in a favourite floral symbol, the fleur de lys – a lily composed of three petals bound together at their bases by the line of the Cross. This is indeed a worthy ideal for any school aiming to foster a true spirit of community centred on Christ.